Angels & Cherubs
A collection of decorative angel borders, cherub borders and vignettes. All of the vintage borders in this group are copyright free and in the public domain in most of the world. They are downloadable and ready to adorn your next creative project.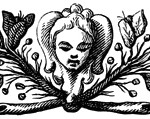 A pretty, vintage page spacer featuring an angel face surrounded by mistletoe or another plant with leaves and berries.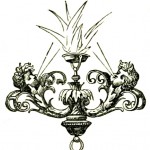 Interesting and unusual, this vintage angel chandelier drawing has two angels or cherubs blowing on a fire above their heads. Cool black and white image.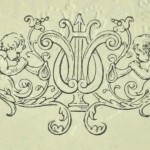 Free vintage, public domain image of boy angels with butterfly wings used as a page spacer. The angels are playing trumpets in front of a large harp.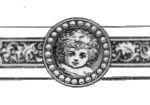 Vintage page spacer featuring a sweet little cherub.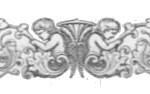 Border and page spacer with cherubs and flowers.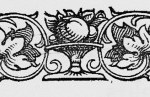 Two angels and a bowl of fruit are among the hidden treasures in this great page spacer image.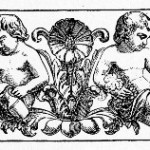 Vintage cherub page spacer and border.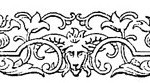 Two cherubs hide among the leaves in this vintage black and white border.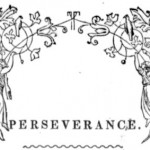 Black and white page heading graphic for stationary and title pages.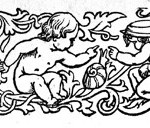 Two little cherubs investigate a snail among the flowers in this great vintage border.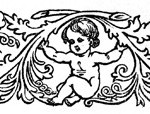 A cute little cherub sits among the vines and flowers in this great black and white vintage vorder.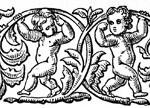 Large black and white Christmas border.
~~~