The Letter N
This is one of several pages of vintage images for the image category The Letter N.

Fancy letter N drop cap image.

Black and white fancy drop cap letter N image.

Fancy letter N surrounded by leaves and curlicues.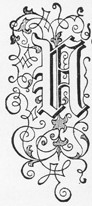 A classical Old English style drop cap letter N surrounded by curlicues.

Bold and dark letter N, surrounded by delicate scrollwork.
Fancy Letter N With Curlicues


Free downloadable image of a lowercase Letter N.
~~~