Valentine's Day
Valentine's Day is such a fun holiday. It's the one day a year we are all reminded to let those we cherish just how much we love them.
February 14th is a day full of images of hearts, Cupid and valentines. Hopefully, the vintage Valentine's Day images on Reusable Art will help you express your love to your sweetie this year.
If you're looking for illustrations that feature two people in love, do check out our collection of romantic illustrations.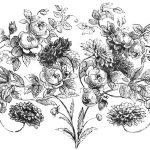 An often over-looked, lovely floral heart bouquet done simply in black and white from an 1867 French satire about flowers.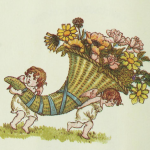 Sweet Valentine's Day image of cherubs with flowers by Kate Greenaway. Two winged cuties are delivering a cornucopia full of colorful flowers to someone; could it be you?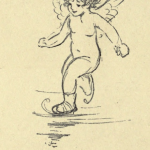 Charming sketch-like drawing of an ice skating Cupid. A most unique and interesting image for Valentine's Day.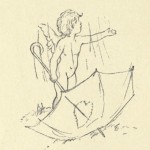 Cupid facing a bit of stormy weather. Peaking out from underneath his umbrella and checking to see if the rain has stopped falling. Super cute.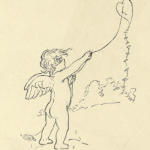 Does it take a lightning strike to find love? It looks like Cupid might be trying to find out with his heart-shaped kite.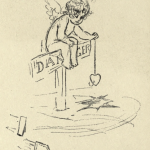 Fishing for love in all the right places. Cupid braves the thin ice and casts out his hook to find love in this charming Valentine's illustration from 1911.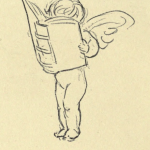 Charming drawing for Valentine's Day of Cupid reading. Could he be checking his list to see who will be lucky in love?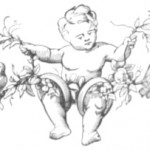 Cupid with Birds and Rings; my name for a vintage illustration that includes a Cupid-like child on a branch with a trio of birds and a pair of wedding rings.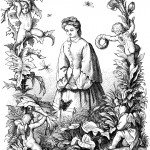 Such a sad Valentine. A melancholy lady is surrounded by Cherubs and Cupid looks ready to let one of his arrows fly.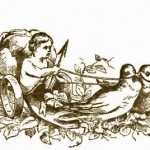 Cupid Chariot; Cupid leading a pair of love-birds who appear to be too busy to pull Cupid around. The wheels are cleverly made of wedding rings.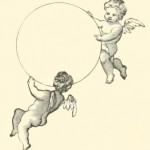 A pair of cherubs surround a great place to put a photo.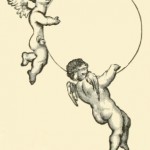 Two cherubs hold up a circular frame.
~~~