Vintage Cat Cartoons
I haven't seen them anywhere in stores, but I can remember as a child receiving postcards from my Grandmother that often contained bright colorful images of cats acting like people; wearing clothes, playing and doing things cats wouldn't normally do.
This category was started with a wonderful group of vintage cartoon images that are reminiscent of those postcards and hopefully will be the start of many more great cartoon images of cats to come.
Cute cat cartoon of three kittens applauding their teacher.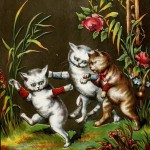 Vintage drawing of three kittens playing in a garden.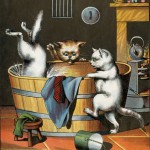 Drawing of three kittens taking a bath.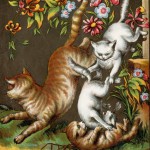 Three kittens chase their mother in a flower garden.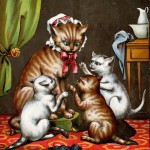 Three little kittens ask their mother for mittens.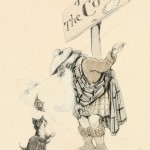 A vintage drawing of a young cat asking for directions.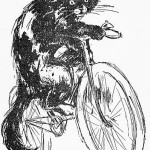 Cute vintage drawing of a cat riding a bicycle.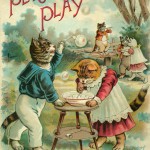 Youngsters enjoy the day by blowing bubbles, playing the flute or a bit of dancing.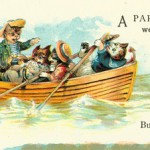 A party of youngsters go out rowing.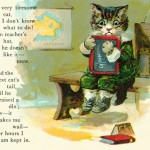 One young student sits with his slate suffering through detention.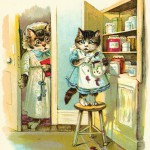 A youngster gets caught in the act of stealing a bit of jam.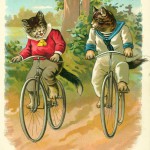 Two youngsters take a bike ride.
~~~