Flower Borders & Vignettes
Wonderfully vintage drawings and illustrations that were often used as chapter headings and page spacers in old books. This group of vignettes and borders feature flowers.
Use these floral images as they were originally designed, make frames for your artwork, create custom stationary or many other wonderful arts and crafts from these public domain images.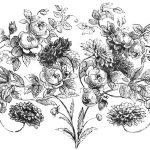 An often over-looked, lovely floral heart bouquet done simply in black and white from an 1867 French satire about flowers.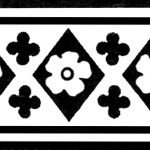 Diamonds, Flowers and Clover Leafs in a simple repeating pattern for use as borders or page spacers.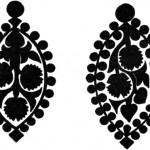 Great folklore book from 1907. Great find in these vintage floral charms. Black on white drawing design for your creative projects.

Simple, repeating orange flower border from the talented flower artist and author Margaret Armstrong (1867-1944).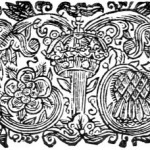 Over 360 years old, this flower and crown border features numerous flowers and leaves around a central crown image. Would be a great bookmark to color.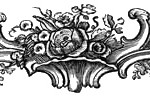 Vintage, black and white rose bouquet drawing from 1881. It was included in a French work to divide two chapters. I think it would look lovely with a photo.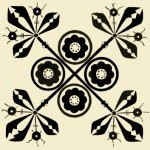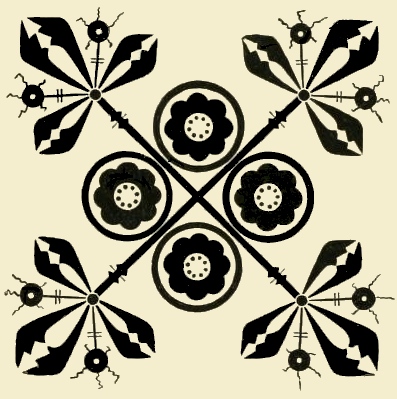 This Christopher Dresser floral design seems best described as a shocking quilt flower design. Look at the elements of chemistry and electricity to see why.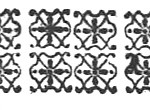 Vintage floral banner drawing from 1715. It is a great page spacer image the is uncharacteristically crisp and well-defined for a vintage image that old.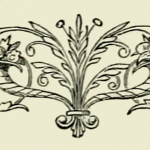 Vintage floral spray design with flowers, horns, vines and leaves from 1888. Most likely a publishing image as the general design is used in multiple books.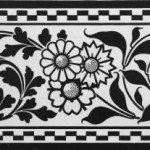 Vintage floral stencil design from London.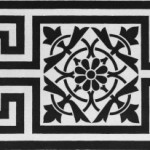 Vintage, English decorating stencil from the 1880s.

Small ribbon and flower page element image.
~~~