Kate Greenaway
Kate Greenaway (1846-1901) was one of the most influential children's book illustrators of her Era. She was born in England and along with Walter Crane and Randolph Caldecott was one of the most prolific and loved illustrators of the time. She was know for drawing children, often too young to wear trousers, and some of her drawings were turned into children's clothing by Liberty of London.
While far from a complete collection of works by Kate Greenaway, this special image category showcases those that we have found and shared with you here on Reusable Art.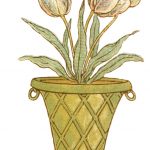 A sweet pot of tulips drawing by children's artist, Kate Greenaway. Peach flowers in a green and yellow urn-like pot.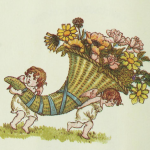 Sweet Valentine's Day image of cherubs with flowers by Kate Greenaway. Two winged cuties are delivering a cornucopia full of colorful flowers to someone; could it be you?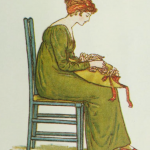 Lady with hat – a vintage book illustration of a lady in a green dress adding flowers and a bow to her green hat.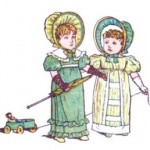 Charming drawing by Kate Greenaway of two little girls taking dolly for a walk.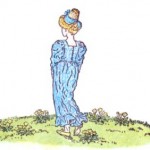 Vintage drawing of a pretty lady wearing blue.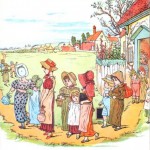 Charming drawing of children leaving school for the day.

Straight branch with leaves forms a great page spacer.

Public domain lily of the valley clip art.

Drawing of a little white daffodil on a stem with a trio of leaves.

Drawing of yellow tulip flower, bud and leaves.

Copyright free yellow flower clip art.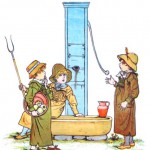 Gossip at the well. A charming drawing of three young children by Kate Greenaway (1846-1901) from a vintage children's book.
~~~