Free Bee Images
Looking for free vintage bee images to use for your next project? You've come to the right place. All of the bee images here are copyright free in most of the world and would make a nice addition to your next project requiring a wonderfully illustrated bee. Best of all, I guarantee that none of the bees and wasps in this group will sting you.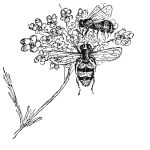 Public domain drawing of bees on flowers from 1920.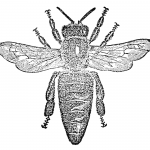 Vintage bee engraving from an advertisement for a beekeeping book. It's from 1867, so, it's fully in the public domain.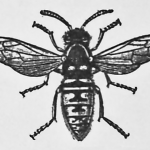 Vintage red wasp drawing from 1911. This black and white bee drawing features a single worker bee.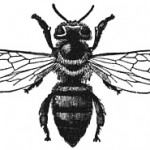 Great, vintage, black and white honeybee worker bee drawing. Has great detail of the fuzzy legs and torso of these hardworking, honey makers.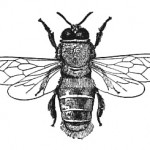 Public domain honey bee drawing from 1910. Wonderful black and white illustration that even shows the tiny little hairs on the bee's torso.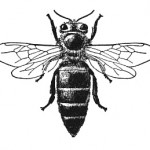 Vintage queen bee drawing from 1910. Love these old encyclopedia illustrations – so much detail even when they are usually only done in black and white.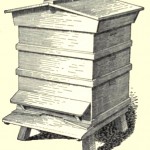 Vintage bee hive drawing from an old encyclopedia depicting a W.B.C. hive.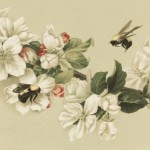 Vintage drawing of a trio of honey bees and flowers. White and red blooms on a cherry tree branch has attracted the bees. Piece by Olive A. Whitney.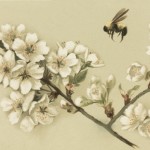 Lovely vintage drawing of a honey bee and cherry blossoms. The piece was designed for Prang in the late 1800s and most likely used on postcards.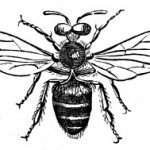 Drone bee drawing from a large work on insects dating to 1890. They are recognizable from worker bees as they don't have stingers and do not collect pollen.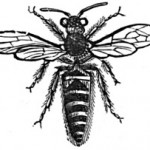 1890 queen bee image showing a Apis Mellifica specimen. She is drawn in black and white but could easily be colorized to match nature or your imagination.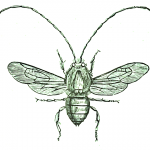 What would a green bee drawing be if not green? The original vintage bee image was black and white but I had a bit of fun and made a green one too.
~~~