Orchid Images
Orchids are such beautiful flowers. It's no wonder that the British became utterly fascinated by them in the 1800s. They would collect orchids and have great conferences about the different hybrids and cultivars being brought back from tropical climes. Today's professional and amateur botanists don't have to travel nearly as far to enjoy growing orchids. I can't remember the last time we didn't have one of these most tropical of plants in our home.
I've found a number of different orchid varieties to share with you. Don't you just love those wonderful vintage botanical prints? To think a whole book full of original watercolors. Could you just imagine what something like that would cost to publish today?
I hope you enjoy the vintage orchid images I've shared. Be sure and check back so you don't miss anything when I find more orchid drawings to share with you.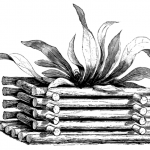 Vintage black and white orchid plant drawing from 1864. Public domain flower image. Sadly no flowers but great for coloring.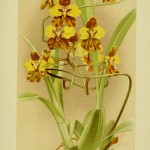 Botanical print of an oncidium macranthum orchid. Yellow orchid drawing with bright yellow and brown-ish petals; native to cooler, mountain climes.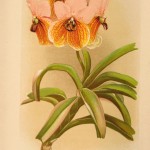 Botanical print of an 1893 Vanda Sanderiana drawing. Beautiful pink orchid that some worship, some call a Queen and is one nation's national flower.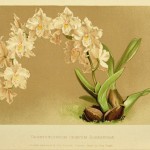 Botanical print and odontoglossum crispum drawing from 1893. Beautiful white ruffled flowers with pink and yellow accents. Complete plant shown.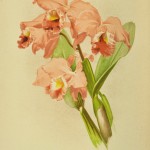 Unusually colored Cattleya Labiata Drawing with pinky-peach flowers from 1893. Flowers of this species are generally lilac but this flower is even prettier.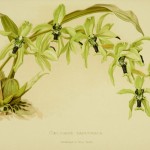 1893 Coelogyne Pandurata Drawing with striking chartreuse and black flowers. Botanical print available in multiple sizes. Free to download.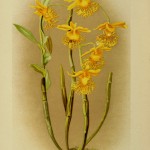 1893 Dendrobium Brymerianum Drawing – an interesting yellow orchid with a fringed lip. They like the higher elevations and cooler temps.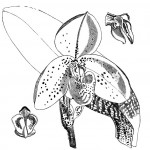 Vintage cypripedium concolor drawing from a book about growing orchids. It's in black and white but that just means you can make it any color you wish.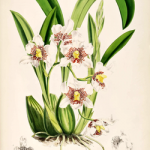 Odontoglossum Nebulosum is a beautiful spotted white orchid plant that is featured in this vintage botanical print. The name has since changed.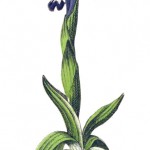 Vintage book plate drawing of a purple orchid.
~~~