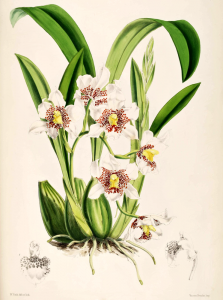 Here we have an fine white orchid drawing. The name attached to this botanical print was Odontoglossum Nebulosum. But as so often happens with these vintage plates, finding modern references to that name proved quite difficult. According to the Kew Gardens website, the name of the plant is now listed as "Rhynchostele aptera (Lex.) Soto Arenas & Salazar, Orquídea (Mexico City), n.s., 13: 146 (1993)." Seems a bit silly to me as it seems to contain the origin, name and date of the name change.
Regardless of what you might call this white orchid drawing, I think we all can agree it is stunning. Stark white petals with brown spots and yellow on the "claw". Based on the original text, A Monograph of Odontoglossum by James Bateman, in 1874, he recounts having the opportunity to own several of these plants. Much to his dismay he found out they were cold-loving orchids when they died within 12 months of receiving them. He includes a bit of a rambling conversation about the plant being mis-identified by collectors having to rely upon dried specimens as opposed to the living ones he owned and he later would see in full bloom. The odontoglossum nebulosum drawing that I'm sharing with you is based upon a live specimen grown by a private collector in England.
Interestingly, while trying to find modern references to this particular white orchid plant, I stumbled upon an English gardening magazine from the period. Orchids were almost treated the way we treat fine collectables. Transfers of ownership could be newsworthy events and were announced in the British magazine The Garden.
The April 24, 1886 edition had a fairly nice description of the plant – "Panther-like in its copious spotting this variety certainly is. There is a plant of it now in flower at Kew….O. nebulous is not as popular as it deserves to be, not only because of the large size and beauty of its flowers but also because of its thriving well from year to year in a cool greenhouse and never failing to flower in the spring months. There are a good many popular orchids of which we could not speak so favourably."
The author of the book from which this botanical print is from did not identify the illustrator. We know, however from the signature, that Walter Hood Fitch (1817-1892) created this white orchid drawing. I'm offering the drawing in two different sizes. That way you have options and I might save a bit on bandwidth. If you want the larger size, which should print at 8 inches by 10 inches, simply click on the image shown in this post to access it.
This image is copyright free and in the public domain anywhere that extends copyrights 70 years after death or at least 120 years after publication when the original illustrator is unknown.
---