Most of the time that I see the name William Morris (1834-1896), the conversation centers around wallpaper and interior design.  In 1891, at the twilight of his career and his life, Morris founded the Kelmscott Press with William Bowden. The goal was to recreate materials from the 1500s featuring the beautiful illuminated pages that the finest pieces from that era often featured.
This illuminated letter W was not only included in a piece published by Kelmscott but is identified as being the work of Morris himself. I wish it was in a little better shape. It was included in a book about typography and page illumination and was part of a larger work that was scanned and included. The original wasn't as large and as crisp as it should have been, so there's not much I could do to improve what's here. I did modify it a bit. It was original "Whan", an old English word. I'm not entirely sure I remember the word from high school English class. Our senior English teacher insisted we memorize and learn to pronounce properly the beginning the Chaucer's The Canterbury Tales.
We never learned exactly what;
"WHAN that Aprille with his shores soote
The droghte of Marche hath perced to the roote,
And bathed every veyne in swich licour,
Of which vertu engendred is the flour;"
meant and never learned how a high school English teacher from Winston-Salem, North Carolina would have any clue how those words were truly spoken over 600 years ago. She graded us not only on the memorization but also the pronunciation. And after finding a recording on the Harvard University website, it would appear that she was, in fact, incorrect in her pronunciation. Oh, too bad there was no Internet back then. That could have been fun.
Anyway, now that I've so greatly digressed as this was supposed to be a discussion about a lovely illuminated W by William Morris, it's time to return to that subject. As to a short description of the letter itself, the W is drawn in outline form. Inside the letter are curling leaves, filling the open spaces. Within the letter W, the designs are drawn in white on a black background. The background, which surrounds the letter was drawn in white on black. It too has curling leaves but also several flowers too. It looks a bit cut off at the top but I've given you everything the book included in the page imprint of Morris' work.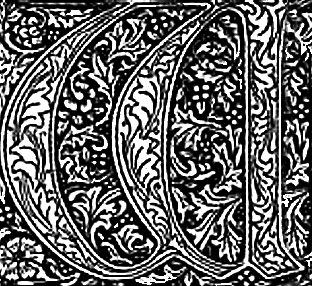 This image is copyright free and in the public domain anywhere that extends copyrights 70 years after death or at least 120 years after publication when the original illustrator is unknown.
---