Bike Illustrations
This group of transportation drawings focus on vintage bike illustrations. It's currently a small category but it does have a few great pieces.
I loved having a bike as a kid. It meant the open road and freedom. I could travel further and faster on my bike than I ever could just walking. A sunny day peddling with the wind in my hair was just about the best thing ever. With helmets, iPads, and cell phones, I wonder if today's kids even ride bicycles much anymore. Such a loss for those kids who will never know the simply joy of peddling as fast as they can. Who knows, maybe looking at these vintage bike illustrations will entice some parents to buy a bike for their own children.
Speaking of children, there are a few drawings bicycles being ridden in other areas of Reusable Art. They are in several different categories, so just use the search feature in the sidebar and search for the word bike.
As with all of the vintage images you can find here, these bike illustrations are in the public domain.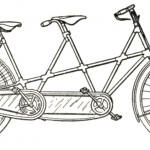 Tandem bike illustration from 1911 of the famous Raleigh tandem designed for two ladies to ride.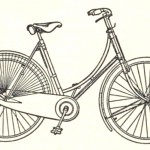 Vintage lady's bike drawing from 1911. Black and white drawing that could just as easily have been drawn today.
~~~