White Cat Illustration Series
A collection of 6 white cat drawings that could easily be used to create a story for children. Each of these colorful vintage drawings could be used to launch a child's creative writing skills but when taken as a set of cat illustrations, a child's imagination could truly take flight. This group of white cat drawings are in the public domain and could make a wonderful activity for children – have them create a story around the series!
We've maintained the original presentation order of this collection of cat drawings but you could easily switch the order or use the cat illustrations singly.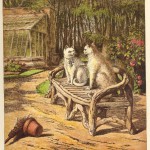 Two white cats sit on a garden bench.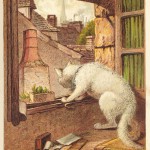 A pretty white cat peers out an open window and looks ready to escape in this vintage colored drawing.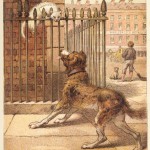 An angry white cat meets a friendly dog in this vintage drawing.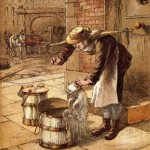 A vintage drawing with a white cat being rescued from a bucket of milk.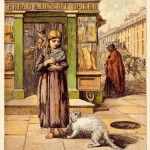 A white cat begs for a bit of bread in this vintage cat drawing.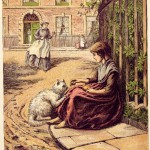 A vintage drawing of a white cat recieving a bit of bread from a poor young girl.
~~~