Images of Fruit
Apple drawings, grape images, peaches, pears, strawberries and a whole bunch of other wonderful fruit images. The group includes individual pieces of fruit along with drawings of the trees and vines they grow on. They vary from simple line drawings to full-color drawings that could have been drawn on a computer rather than over 100 years ago.
All of these vintage fruit drawings are in the public domain in those countries which follow the Berne Conventions Standard.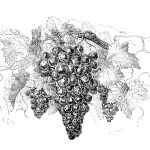 Public domain, black and white engraving of grapes on the vine from 1867.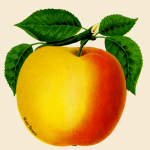 Who knew? A beautiful yellow apple with a pretty red-orange blush that tastes and smells like bananas. Go bananas over this vintage apple drawing from 1893.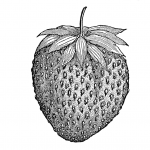 Some of the best advertising images are quite simple. Like this isolated strawberry drawing ready to be colorized and made to look even more delicious.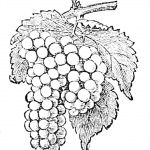 Vintage advertising graphic from 1867 of a bunch of grapes. Original engraving turned into a great b/w illustration ready for colorists.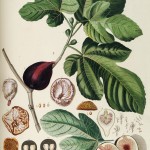 18th century botanical print of a fig plant drawing showing how the plant grows and produces fruit. In full-color and ready to free downloading.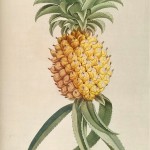 Thoroughly vintage pineapple plant drawing from 1750. As pineapples became a favorite food in Europe they became a symbol of wealth as only the wealthy could afford to import then or grow their own.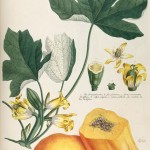 Lovely, full-color papaya botanical print from the 18th century by German artist Georg Dionys Ehret (1708-1770).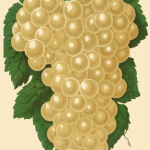 Vintage color lithograph and white grapes drawing. It was used by the Diamond White Grape Company out of New York. A real nice one for your projects.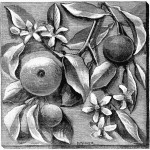 Drawing of a ceramic tile decorated with orange blossoms and oranges.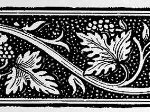 Black and white grape vine border image.

Yellow and green fruit on a branch drawing from a vintage children's book. One of many drawings of flowers and fruit on ReusableArt.com by Kate Greenaway.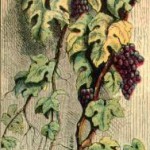 Drawing of a grapevine growing up a wall.
~~~