The Letter K
I honestly never thought how many sentences actually start with the letter K. With the exception of people's names, I haven't discovered all that many to share with you here on Reusable Art. As soon as I find more, I will definitely post them for you. But until then, I do hope one of these fancy letter K drawings will provide just the kick that your project needs.
All of these K images are copyright free in the United States and countries that follow the Berne Convention for copyright duration.

Vintage letter K with vines and flowers from 1878. A black and white drawing that could be easily colorized.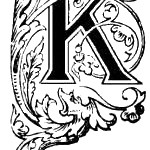 Letter K design that dates back to at least 1887. It features a black and white letter K with flowers, leaves and a Griffin hiding amongst the foliage.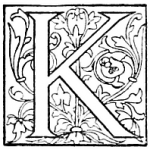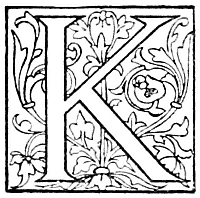 Fairly rare, vintage fancy letter K drawing. Black and white drawing dating back to 1889 and could easily be colorized by hand or with a graphics editor.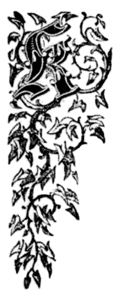 Black and white drop cap letter K image.

Copyright free drop cap letter K image.

Leaves surround a capital letter K in this fancy drop cap image.
Free downloadable image of the Letter K
~~~