Chickens & Roosters
A fun and growing collection of copyright free illustrations of chickens and roosters. From encyclopedia-like entries for specific species of fowl to charming little sketches of baby chicks, the chicken images we've found are sure to please.
Whether you are looking for a simple chicken drawing or a dramatic full-color rooster image, there's certain to be something here you can use.
Like all of the bird images on Reusable Art, all of our chicken images are in the public domain.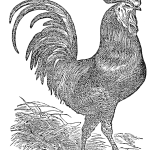 Such a proud fellow. Vintage rooster drawing of a strutting rooster. Black and white engraving from 1867.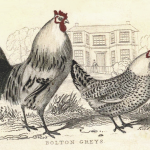 Chickens can definitely be elegant and beautiful as this vintage grey chicken drawing demonstrates. Both cock and hen have white, gray and black feathers.
The pheasant fowl is an old, but threatened species of chickens with that resemble pheasants. Pretty birds and a pretty colored drawing for crafting.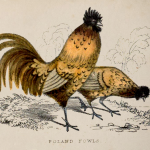 No, this is not a recipe. It's a wonderful, vintage drawing of a rooster and hen. The colored image shows off their golden feathers and elaborate crests.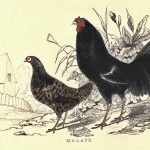 Vintage, colored malay chickens illustration. A pair of tall and stately birds, the male and female colored so differently. Pretty piece for framing.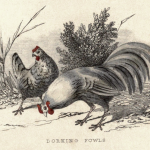 Vintage, partially colored dorking chicken drawing from 1842. A pair of birds are shown on the open ground somewhat protected by grasses and a small bush.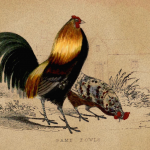 Vintage game fowl drawing from a book that dates back to 1842. The male's bright golden-orange feathers are striking; his other feathers are black.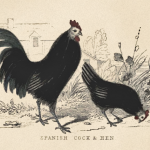 Over 160 years old. Colored book plate of a cock and hen in this Spanish chickens drawing. Black with white faces, these birds are quite striking.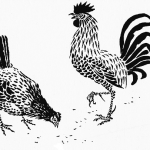 It looks like it was constructed a bit like the scene it depicts – chicken scratch. It was drawn by the prolific children's book illustrator Walter Crane (1845–1915).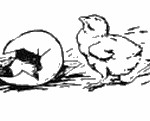 Vintage drawing of several chicks hatching from their eggs.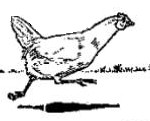 A hen and her chicks chase a rooster in this fun vintage drawing.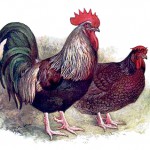 Pretty drawing of a pair of Dark Dorking chickens.
~~~