Block Print Borders & Vignettes
A growing collection of solid block print vintage borders and vignettes. These images make great substitutions for rubber stamps – no special inks, markers or stamps required. With their slightly uneven borders and uneven paint tones common with block prints, they look just like the images produced with rubber stamps and would make a great addition to your next creative project.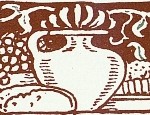 Block print style drawing of a table full of food.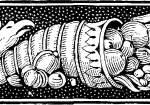 Vintage black and white block print border featuring a cornucopia filled with fruits and nuts and surrounded by flowers.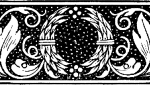 Leaves and flowers frame a circle of grains in this vintage block-printed border.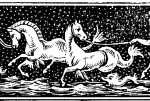 Black and white block print border with mythological figures.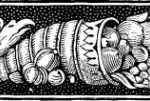 Classic vintage cornucopia block print border image.
Another wonderful vintage block print with a bird surrounded by draping leaves.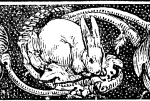 Large leaves and a pair of snails surround a rabbit on this vintage block print border.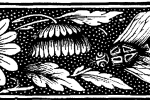 Vintage orchid and daisy block print border used in a number of books printed over 120 years ago.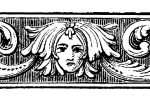 Vintage downloadable border from Reusable Art that includes a face and swirling leaf-like designs.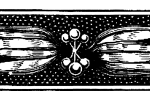 A vintage tulip border, most likely from a print foundry, which dates back to the 1870s. You can download this black and white drawing from ReusableArt.com.
~~~