Kids, Lambs & Sheep
This section of Reusable Art features vintage illustrations of kids with lambs and sheep. Whether you are looking for cute Easter images or specifically for drawings of kids with lambs and sheep, this group of images will hopefully be the end of your search.
If you are looking for drawings of the animals alone, be sure to check out our collection of free sheep images.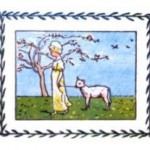 Vintage drawing of a young girl walking her pet lamb from a children's book.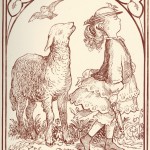 Charming drawing of a little girl and a lamb.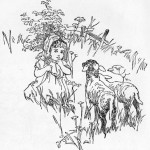 A pair of lambs visit small child sitting in a field.
~~~