Welcome to Reusable Art!
Fun in the Sun…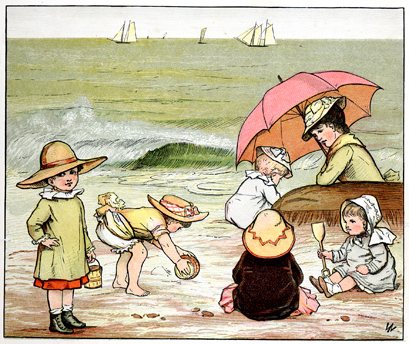 Summertime and the livin' is easy. It would be a great time to get your craft on and spend time with the kids too. You might have your own images of a day at the beach to save or perhaps are making new memories now. Either way, I hope you enjoy your time together. Don't forget the sunscreen, glue sticks and your favorite vintage images website – ReusableArt.com.
Reusable Art has a collection of copyright free images chosen for crafters by a crafter. These free vintage drawings, paintings, and illustrations have been rescued from old print materials in the hopes that a new generation of artists and art lovers can enjoy them.
All of the images appearing on this site are copyright free and in the public domain in the United States, in countries that are part of the Berne Convention and any country that grants copyrights to artists up to 70 years after their death or 120 after publication when the artist is unknown. As these images are out of copyright and now in the public domain, they can be used for anything you wish with no restrictions. (You can read more about this on our About Us page.)
Information is provided with each vintage image to research the copyright status in other countries as well as to honor the artists who created them.
Reusable Art has categorized all of the public domain and free vintage images appearing on this site to make them easier for crafters to find. We are excited to be able to honor the original artists as well as let their art enjoy a new purpose.
Let the crafting begin!